"You are without a doubt the absolutely sexiest woman doing these type of videos I've ever seen."
Who's Tara?
The modest girl next door becomes the purveyor of your own passions...
I'm your sexy neighbor, your loving girlfriend, your doctor, your nurse, your teacher, your dominating mistress, your mommy, your skilled therapist, your worship-worthy goddess, your hot wife or evil spouse, your playful friend encouraging you to explore your every fetish curiosity, the bratty coed, the bitch after your riches, the MILF you must have, the biggest tease you've ever known, the stern deliverer of your desired punishment, or the succubus of your darkest dreams.
I'm a self-made erotic luminary expressing myself through the fulfillment of your own fantasies.
Tara's Blog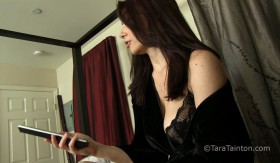 "Your Last Road Trip Together Seals Your Relationship Forever" has reached the world's current Top 20 sexy videos. Yes, it's just that good.