The Making of My Twin
9 September 2011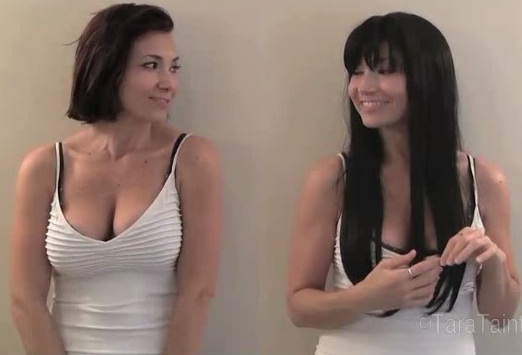 It's true. I have a twin. A long haired, sexy vixen of a sister very much like myself. Yes, the same genetic blessings, the same large, natural breasts, and not at all shy. Though, she's just a bit more playful, just a bit more forward, just a bit more single-minded than myself. And she's dying to make her debut on camera.
Later today, for the first time, my raven haired twin sister is excitedly making her on-camera debut. Her bubbly personality will dazzle you, and her strong desire to best her sister will make for possibly the most erotic seduction scene I've ever filmed. Just as you possibly love Tara Tainton studios videos for the most, you will be the lucky one, the man introduced to, invited into their bedroom with, and between my sister and I. We have a little competition going, you see. We want you to tell us whom you prefer. Me or my sultry sister. It's your choice.
Of course, you may not have to choose just now. I wouldn't be surprised if my twin sister wants to appear on camera for your personal enjoyment again in the future. She was taking a big leap this time and she performed so well! I'm so proud of her, my own erotic creation.
I may not have a true biological twin, but through the magic of "movies" and the erotic desire of myself and my massive worldwide fan base combined, a Tara twin is born. The idea was born in the mind of one of my first and most faithful fans, one creative mind that's envisioned me as one fantastic character after another, inspiring me to meet the challenge of transforming into Poison Ivy ("My Poisonous Lips Seal Batman's Fate") or the woman who seduces and destroys superman ("The Epic Seduction and Destruction of Superman") or the buxom blonde ("Alien Invasion! Sultry Blonde Maiden Is Abducted and Seduced") or nun ("The Tainton Zone – Episode 3: The Lord Works in Mysterious Ways") taken advantage of by an alien species. Oh, yes, with my fans, the best fetish video fans in existence, there are no limits to how I will continue to delight you well into the future. Your every fantasy, I can fulfill. Just try me.
So, my beautiful twin sister was born of a simple video request, a suggestion to see me and my supposed "twin" played also by myself, compete for the attentions of a male suitor: you. Performing twice in one video and performing two separate characters in one scene is complicated. Filming takes twice as long, and you never know what turn the whole scenario will take. I couldn't have conceived of the gorgeous, super sexy result my newest video scene would conceive.
I started the first scene of "Which Tara Twin Would You Choose?" playing myself. When I donned the sexy long hair of my twin, I was surprised with the completely different personality that just came out. That's how most of my video scenes form and result in: complete, delightful, sexy surprises. I never know what I'm going to say and sometimes, not even specifically what I'm going to do on camera. A video request from a fan may be a couple lines describing a scenario or characters or a long, detailed scenario filled with bits of dialogue and all the highlights to include. Yet, once the camera is recording, I become a new person, a woman (and sometimes, a man) with personality based on a single facet of my own. I ad lib everything. Every bit of dialogue comes, moment to moment, out of my own imagination.
A new voice, attitude, and desires just "came out" of my newly created twin sister on camera. We conversed with each other on screen in one-sided discourse… until the editing process. For the first time in my career, and with the help of a motivated video editor, I recorded voice overs for my own video… and ad libbed every word and snippet of conversation my twin or myself spoke off camera as well.
This is the most involved, intricate, complicated, editing intensive, and challenging video scene I've ever imagined, filmed, and performed in. And it's the definitely the most alluring, inviting, warm, and intensely erotic scene I've ever delivered. I'm particularly proud to offer you my latest, and I absolutely can't wait to hear how you enjoy your new, erotically rich video experience. After all, you're getting, for the first time, two of me at once. I'm going to blow your mind and your…
Oh, and also for the first time on camera, I'm kissing another woman. Who best to first exercise my bicurious tendencies with than myself??
Want to be the first to hear of new posts like this one?
SIGN UP now to get the special treatment with pics and updates delivered right to your inbox.