You've Secured a Private Show with a Professional Leg Model
31 March 2010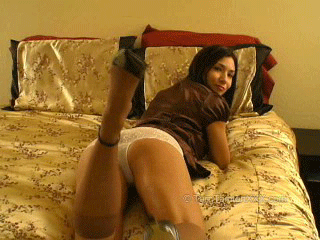 So… what are your intentions? What are you going to do with me now that you've secured the services of a professional leg model for a private show right here in this fancy hotel room? You're going to come for me, aren't you? I sure hope so. I love to see how much you're enjoying your very close and personal, excruciatingly intimate opportunity.
Be sure to show your appreciation over and OVER again! Now, focus on my sexy knee-highs, pulled tight around my shapely calves… keep your eye on my long tan and toned legs topped by a pair of very sheer lace panties…. notice my very high heels, the delicate ankle strap, and the dangerously sharp stiletto heel… watch my finger lead your eyes up, up my thighs, over my knee, and even over the curve of my breasts.
I'm going to bend and lie and sit and stand and kneel and pull my long, lean legs way over my head to give you the very best views. Don't worry… I'm a professional.
Want to be the first to hear of new posts like this one?
SIGN UP now to get the special treatment with pics and updates delivered right to your inbox.