My Stiletto and Stocking Dangling Habit Surfaces During the Workday
16 June 2010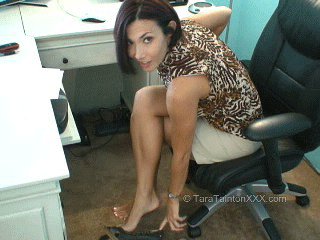 Gee, I've done it again! I just can't seem to help dangling my pumps while talking absentmindedly on the phone. Here I am, waiting on my business partner yet again. I can't believe she's so late!
This phone conversation is going on way too long, I'm so tired, and I can't seem to keep my shoes and stockings on! It's SUCH a relief to let the heels of my shoes slip off, leaving my peep-toe pumps to dangle dangerously from my toes. My arches and souls feel so good when they're finally freed! And I just love the feel of my silky stockings slipping down over my smooth legs, cooling off my skin after a long workday and falling over my feet and toes as I cross and uncross my legs. Ahhhhh…….
Want to be the first to hear of new posts like this one?
SIGN UP now to get the special treatment with pics and updates delivered right to your inbox.