My Femme Fatale Role Reviewed by Die for Her
2 May 2012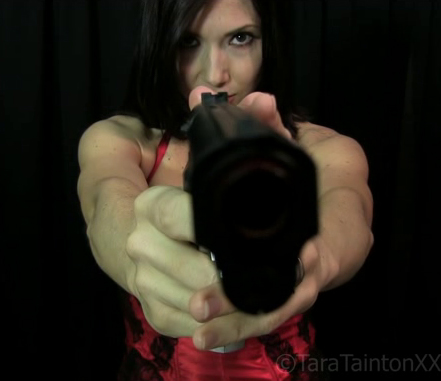 The fetish connoisseurs at Die for Her, the leading site for femme fatale fetish, have had their eyes on me lately… and I'm positively blushing. They're latest addiction is for gun play, which has led them right to my own recent femme fatale video designed for your personal experience: "I'm So Turned on by Carrying Out Your Single Last Wish." Oh, I do look good armed with a deadly weapon, don't I?
What do they have to say about my feminine ability to wield a gun and lord it over you in my infamous POV style? Check out the full review titled "Tara Tainton shares your gun-girl fetish…". Then, maybe, you'll find yourself dying for me too.
Want to be the first to hear of new posts like this one?
SIGN UP now to get the special treatment with pics and updates delivered right to your inbox.